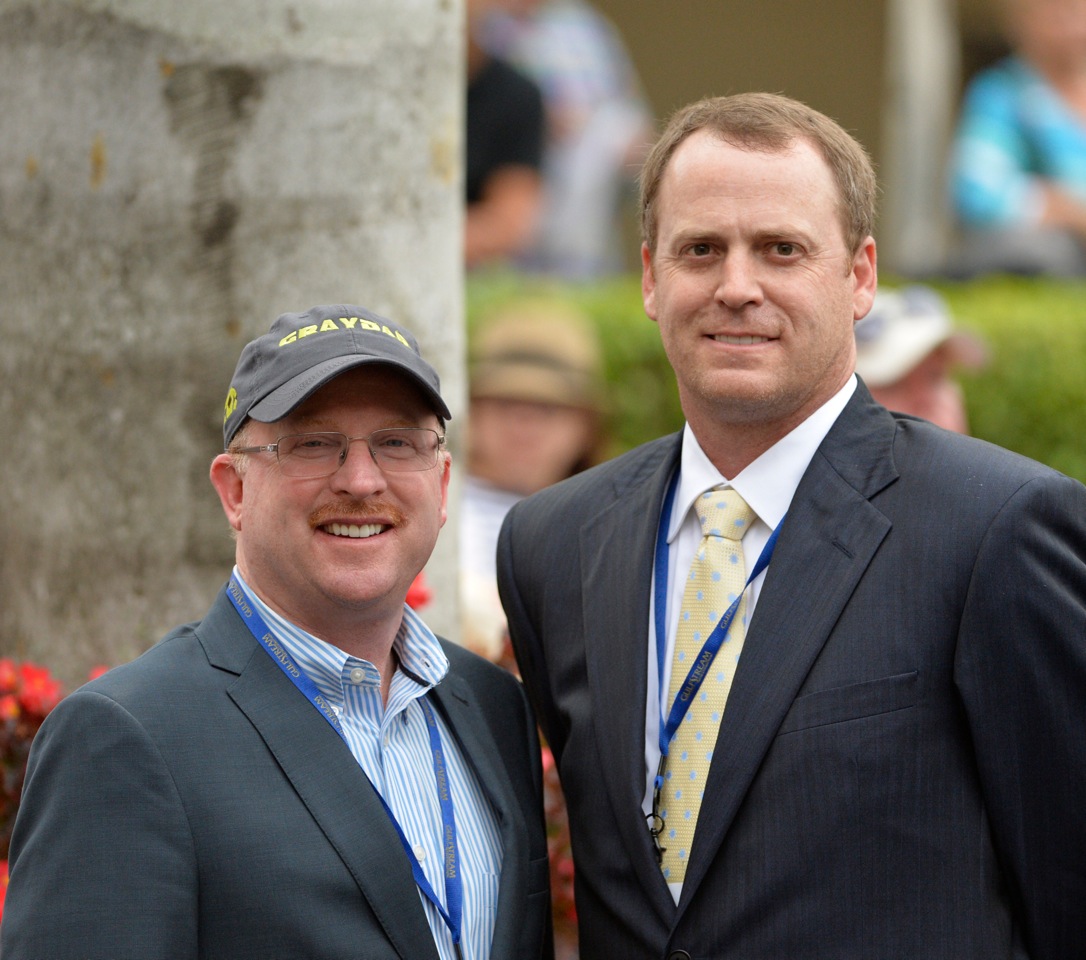 A Passion for Horses and Racing
Steve Davison and Randy Gullatt have been walking on the ledge of the Thoroughbred business for so long they're no longer afraid of the precipitous fall that lurks a couple of false steps away. The childhood friends from Louisiana have built, from the ground up, racing and breeding operations that today are thriving from their base at Twin Creeks Farm in Nonesuch, KY just 15 miles west of Lexington. In typical fashion for the pair, the beautifully manicured 230 acres sit clear across Woodford County from the high-rent district that is home to farms such as Lane's End, Three Chimneys, and WinStar. Surrounded by cattle and tobacco growers, Twin Creeks stands out as a jewel.
In 2010 Davison, Gullatt, and partners realized a dream they hadn't dared fantasize about, as MISSION IMPAZIBLE took them to the Kentucky Derby (gr. I). As that one was winding down his racing career, along came the brilliant GRAYDAR to deliver Twin Creeks' their first Grade 1 victory in the Donn Handicap. The wave continued with CONSTITUTION winning the Besilu Stables Florida Derby (gr. I), in 2014 while graded stakes winner VINCEREMOS took Twin Creeks back to the KY Derby for a 2
nd
time.   Constitution continued his streak giving Twin Creeks their second Donn Handicap victory in 2015.In 2016 multiple graded stakes winner, DESTIN gave them another shot in the KY Derby and probably the most thrilling and unforgettable race when defeated by a nose hair in the G1 Belmont Stakes.As destiny would have it, this year Twin Creeks has the ultimate honor of being the Breeder of this years (GI) Belmont and Travers S. winner
TIZ THE LAW.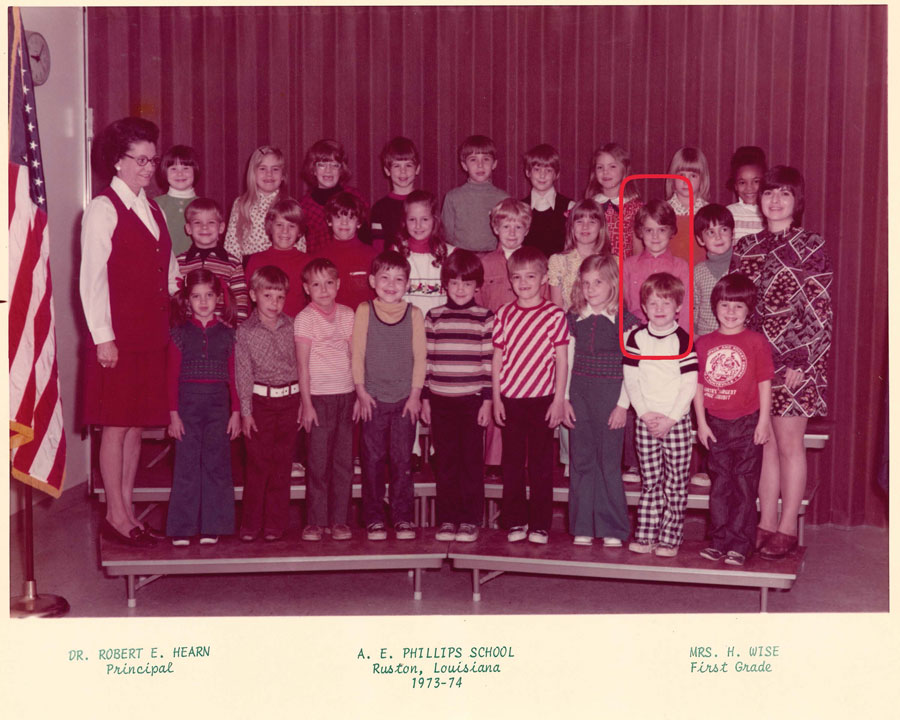 Our Story
Steve Davison and Randy Gullatt grew up in the small town of Ruston Louisiana. They sat next to each other from kindergarten through eighth grade in a small school where the same 30 kids stayed together for those nine years. Growing up in the shadow of Louisiana Downs, they would sneak into the racetrack while still underage.
Randy galloped horses while in high school and tried to pursue a career as a jockey but soon realized staying at riding weight was not a realistic or healthy path for him. He took out a trainer's license and watched and studied the methods of the more experienced and successful trainers. He galloped, groomed and hot-walked all his horses and learned hands on what did and didn't work.  Knowing that Davison had a love for racing, Gullatt asked if Davison's father, a successful trucking company owner, would be interested in financing their claiming a couple of racehorses together. Thankfully Steve's father said yes and their venture began.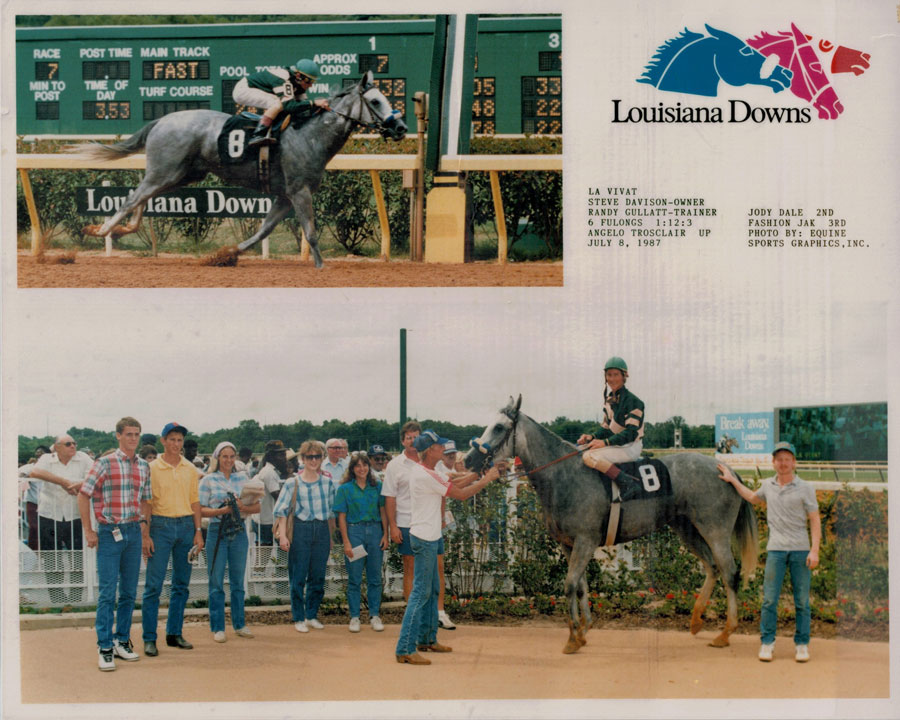 They had their first winner that summer with a horse named  La Vivat.  The venture was nothing serious at the time but both agreed that if their horses won they would invest their profits to claim more horses.
Within six short years Steve and Randy accumulated horses such as MISSOURI ACE, who they claimed for $35,000 and turned into a multiple stakes winner. JOEY JR. who reeled off four wins in a row and two stakes while setting a world record for 7 -1/2 furlongs on the turf and becoming a local hero. Then there was MISS JESY, a Louisiana bred, who took the operation out west. With their racing stable outgrowing Louisiana Downs, Gullatt hit the road for California, where MISS JESY won three stakes and was named  "Horse of the Meet" at Bay Meadows in 1991.
Randy and Steve, the latter of whom left the racetrack to his partner while he finished college and law school, raced a handful of stakes horses in the Golden State as the '80s turned into the '90s.
Randy had married his wife, Kim, a former jockey and they were raising two small children, which precipitated another change-of-life decision. Not wanting the all-consuming lifestyle of training racehorses at the expense of raising his family, Gullatt, who had been going to the yearling sales in Kentucky and training some at the autumn meets at Keeneland and Churchill Downs, started farm shopping with Davison's blessing.
Twin Creeks Farm Established in 1992.
Randy packed up his family and moved to Kentucky and thus Twin Creeks Farm was established. And just like that the racetrack operation became a breeding operation with one major mare that tied them both together. LaPaz -the Legacy of Twin Creeks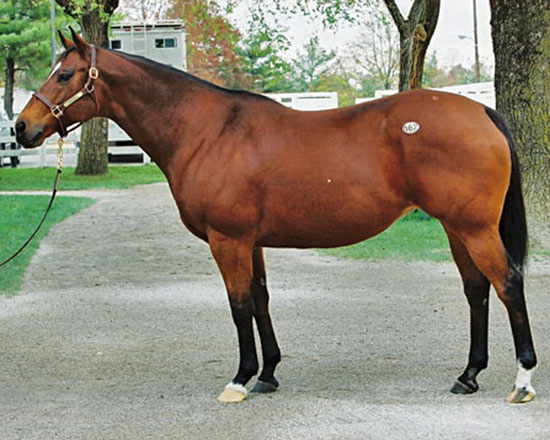 Randy  and Steve picked the best race mares they had from their racing stable to develop a broodmare band, and leading that band was multiple stakes winner LaPaz.  La Paz was an Arizona bred, purchased privately as a two year old, by Hold Your Peace out of Classy Craft. La Paz was the ultimate horse that kept giving. She won eight races and earned $175,431 for Steve and Randy before becoming part of the broodmare band at Twin Creeks. Her third foal, FOREST CAMP, (by Deputy Minister), bred and raised by Twin Creeks, won the 1999 Del Mar Futurity (GII). Her Pleasant Colony colt SPANISH EMPIRE, co-bred by Twin Creeks won the 2004 Fifth Season (GIII) at Oaklawn Park.
Forest Camp was Twin Creeks first big success as breeders.  Being a young growing farm and needing the capitol, Steve and Randy reluctantly decided to sell La Paz in foal to Storm Cat at the 2000 Keeneland November mixed sale. She fetched $1.6 million to Jane Lyon of Summer Wind Farm, but that hardly ended Gullatt and Davison's involvement with her.
Gullatt continued to concentrate on building the breeding operation, buying mares at auction, privately, and off the racetrack. Twin Creeks bought Cruising Haven for $600,000 and sold the Unbridled's Song colt she was carrying for $2.8 million. They sold her next Unbridled's Song colt for $1 million the following year. Their most recent success story is Baffled, the dam of CONSTITUTION. She was purchased privately for $400,000 before Constitution started his first race. Twin Creeks bred her back to Tapit, the sire of Constitution, and sold her at auction that fall for 3.5 million dollars.
Off to the Races! In 2007 both Steve and Randy decided to get back to their childhood passion for racing. The kids were grown and Steve's other businesses (real estate management, energy) allowed us to grow and build up. We raised and sold a lot of nice horses. But our background and love was racing, so we decided to start another racing stable."
They started seeking out yearlings with athletic physicals and pedigree at the premier sales to build a racing stable while still continuing to build on their breeding program. Summer Wind had bred La Paz to Unbridled's Song and brought the resultant yearling to Keeneland's September sale in 2008.
"Randy and I were living 1,000 miles apart, but I'm sure we both turned down the tab on the page when we saw that pedigree in the catalog," said Davison. "That colt was the first horse I wanted to see when I got to the sale, although usually you're disappointed because the one you like on paper isn't the one you like physically. This time, though, he matched up. He was the best foal she'd had, and that turned out to be MISSION IMPAZIBLE. "We loved him because of our connection to the family, and then we loved him as a racehorse." Gullatt and Davison partnered with members of Davison's family and his longtime friend, Hall of Fame quarterback Terry Bradshaw, to campaign MISSION IMPAZIBLE.
By the spring of 2009, Twin Creeks had their first starter from the individuals they had picked in the previous fall auctions. That first starter was GARDEN DISTRICT who won her debut at Keeneland and followed that performance with a second in the Kentucky S.(G3) against RUN AWAY AND HIDE(now sire). A month after that she won the Debutante S. (G3) defeating eventual Horse of the Year RACHEL ALEXANDRA.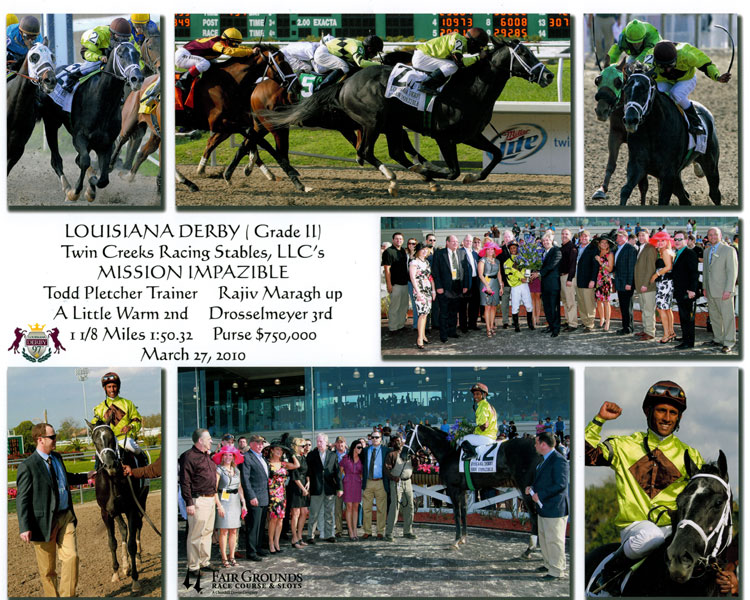 MISSION IMPAZIBLE was a debut winner at Keeneland that spring as well. He showed his brilliant talent and quick turn of foot going 4 ½ furlongs and gave Steve, Randy and their partners a glimpse of what the future would bring.  The following spring MISSION IMPAZIBLE took them on the Triple Crown train winning the Louisiana Derby (gr.II) in their own backyard and a running in the Kentucky Derby. The Kentucky Derby was so unattainable when we started it wasn't even a goal," Davison said. "We were tickled to be there; we were probably the happiest people ever to finish ninth in the Derby."
Gullatt said trust is the principle reason for his sustained success with Davison. "Steve and I have an extremely strong trust for each other. We respect each other and we are always looking out for each other and we have always been on the same page as far as growth. That early childhood friendship has helped. But really it comes down to that word, trust."
Life After Racing Today, MISSION IMPAZIBLE comes home every summer after the breeding season to hang out and enjoy the outdoor therapeutic swimming pool on the farm.
Around the farm the paddocks are neatly fenced, an equine swimming pool has been built, woods were cleared for the barn, and a home was built up on the hill. Randy's wife, Kim, has taken in some of their retired racehorses for retraining and showing.
This past fall she won a Liberty class with Mission Impazible's debut  and Tremont S. winner, Silver Mission, and is preparing another Twin Creeks retiree for the 2020 Thoroughbred Makeover.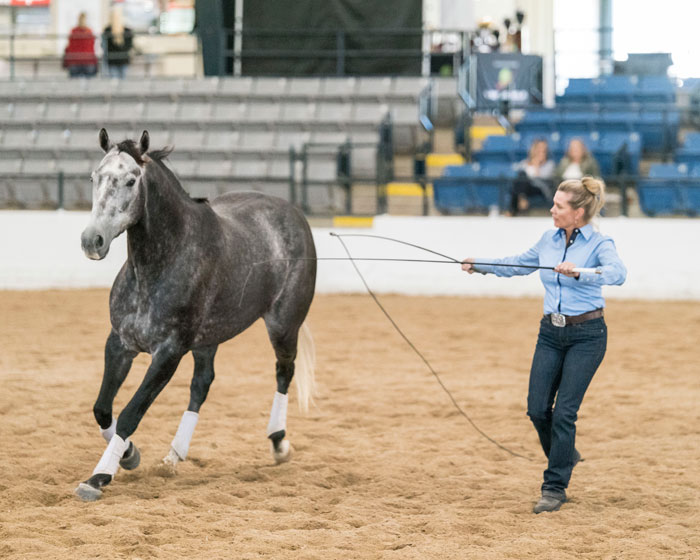 "It comes from that respect for the racehorse, getting to raise them," said Gullatt. "You form an attachment, you feel you owe it to them. We had the facility and the capability, and we really enjoy doing it. My wife is the leader in that department."   The rest is history in the making!
Read more articles about Twin Creeks Rising Creeks– From humble origins Twin Creeks Farm is cresting: by Lenny Shulman Randy Gullatt-Successful Rookie Horseman: by Norman Ashauer