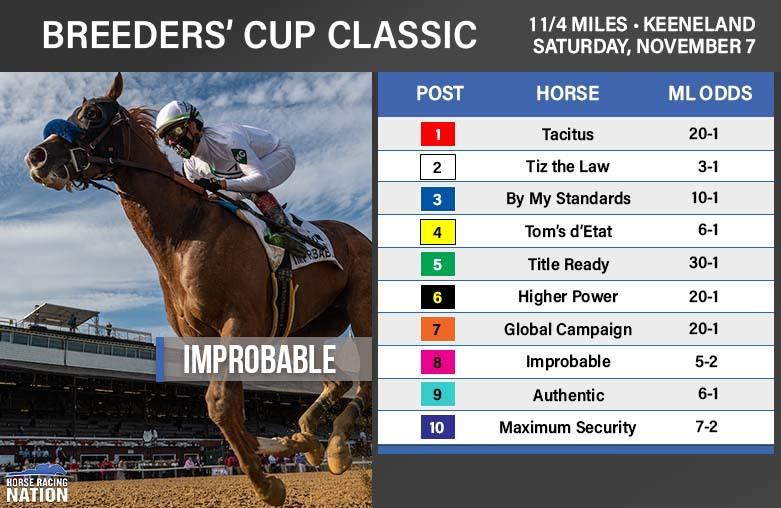 If there was a horse that did poorly in Monday's draw for the Breeders' Cup Classic, it was Tiz The Law.
Luck left him stuck inside in post 2, a place that flies in the face of the conventional wisdom that says the Belmont Stakes likes it better when he races to the outside.
Lead owner Jack Knowlton of Sackatoga Stable admitted that an inside draw would not have been his first choice, but that it will not crush his hopes of winning Saturday's $6 million race at Keeneland.
"It wasn't our preferred (post)," Knowlton said Tuesday morning on TVG's "Breakfast at the Breeders' Cup" show. "We thought anywhere from 5 to 8 would be fine."
Plan B, then becomes Plan A for Knowlton, trainer Barclay Tagg and especially jockey Manny Franco. That is to get out quickly and find what racecar drivers might call clean air.
"He can shoot out of that gate unbelievably quickly," Knowlton said in his interview at the Lexington track. "I think that Manny is probably going to have an option, if he breaks the way we hope he's going to break, to put him maybe in the 3- or 4-path, whatever he wants to do."
Tiz The Law was made the 3-1 second choice on the morning line with 4-year-old Improbable the 5-2 favorite. Like the other Bob Baffert-trained horses Authentic (6-1) and Maximum Security (7-2), Improbable drew into a group on the outside in gates 8-10.
"They're outside. We're inside," Knowlton said. "(Tiz The Law) is a handy horse. If you go back to his maiden race at Saratoga and the Champagne (last year at Belmont Park), he was inside. He ran between horses, around horses and won. He's very adaptable. I think he'll work out a trip."
Knowlton said there is also the possibility of Plan C, whatever that may be.
"Funny things happen in races," he said. "You just don't know. Sometimes a horse will do something that nobody expects it to do. It kind of changes the complexion of the race. We feel real good about him. He'll find a way I think to make a good run. He's doing as well as he could possibly be doing."
Knowlton also confirmed that he expects Tiz The Law to race next year.
"It's going to happen," he said. "As long as he is healthy and sound and running well, he will go through his 4-year-old campaign as part of the arrangement we have with Coolmore when we agreed that he would become a stallion for them."
For Knowlton, 73, it has been a different kind of ride with a star horse. He enjoyed a different journey 17 years ago when dual classic winner Funny Cide put Sackatoga Stable and its school bus caravans of partners into the consciousness of the racing public.
"I still almost have to pinch myself every day that we've got a horse that's not only in the Breeders' Cup Classic as a 3-year-old, but he's the second favorite on the morning line," Knowlton said. "We're excited. The weather is perfect, and hopefully we'll have a great races. We're happy to be here."
CLICK HERE to read full article
By Ron Flatter
Horse Racing Nation
11/3/20