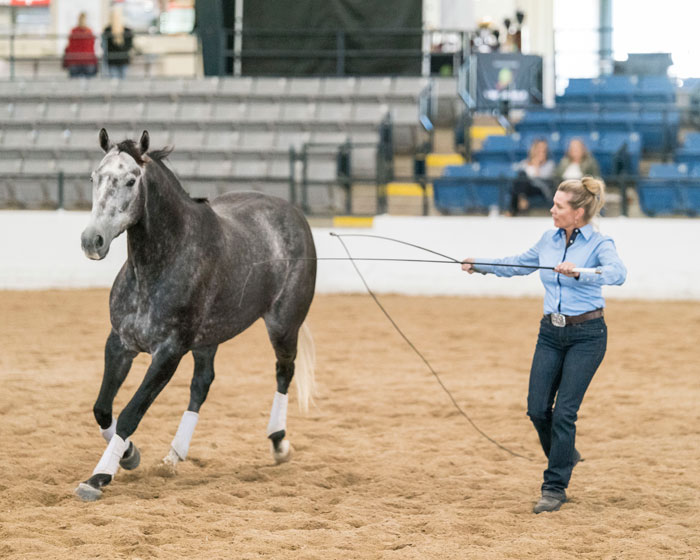 For the love of the horse…
It comes from that respect for the racehorse, getting to raise them. You form an attachment, you feel you owe it to them. We have the facility and the capability, and we really enjoy doing it. ~ Kim
Twin Creeks has always put the horse's well being at the center of focus. We take pride in surrounding our horses with the best trainers, veterinarians and care takers to insure the best quality of care to the horses we breed and race.
Kim has retained a few of Twin Creeks horses to begin their second careers.  The photo taken here is from the 2019 Inaugural International Liberty Association Show in Lexington KY with her horse Silver Mission. This was their first competition of any kind and they came home with a blue ribbon in the Intermediate Liberty Class.
Not all of our retired horses make it back to the farm due to space, but we make every effort to find good homes to those horses still in our possession.  Twin Creeks donates a percentage of all our race earnings, stallion proceeds and sale proceeds to many After Care organizations so that we can rest assured that these horses are finding a forever home.
It is very gratifying to see someone else's dreams come true with a Twin Creeks Farm bred horse. We follow all our horses on the social media platforms. I hope you enjoy reading the individual journeys I have had with each one of the horses listed under Life After Racing. ~ Kim